Thermaltake Announces the SWAFAN EX12/ EX14 ARGB
PC Cooling Fan
Magnetic Force Connection with ARGB Fans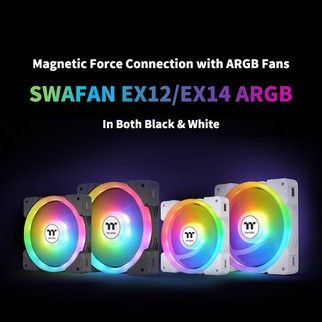 Taipei, Taiwan-July 26th, 2023
-
Thermaltake
, the leading PC DIY premium brand for Case, Power, Cooling, Gaming peripherals, and enthusiast Memory solutions, is delighted to launch the
SWAFAN EX12/ EX14 ARGB PC Cooling Fan
in black and white versions, the latest edition of the beloved SWAFAN series. Featuring an innovative magnetic force design, up to five SWAFAN EX ARGB fans can be connected effortlessly with the magnetic connectors on the fans via a single cable, providing exceptional cable management. The SWAFAN EX ARGB incorporates the iconic swappable fan blade design of the SWAFAN lineup, which can generate different airflow directions easily. On top of that, this fan comes with 20 addressable LEDs for you to customize splendid ARGB lighting with 5V motherboard sync software, showing your own style.
Don't want to worry about organizing multiple cables while assembling your PC? The SWAFAN EX ARGB with magnetic quick connection design is an excellent solution. The fan frames and cables come with magnetic connectors, allowing users quickly daisy-chain fans without a sophisticated process. The SWAFAN EX ARGB comes in a 3-fan pack with three cables, so you can freely install the fans based on your preference. You can minimize excessive cables to retain a clean layout inside the chassis and reduce the possibility of disconnections caused by moving cables, ultimately allowing you to achieve superior cable management.
Attributed to the swappable fan blade design, you can flexibly select your airflow direction without sacrificing aesthetics and maintenance flexibility. The 3-fan-pack SWAFAN EX ARGB includes three standard fan blades pre-installed on the frames and another three reverse fan blades included in the packaging. Utilizing these two types of detachable fan blades enables the front of the fans to always be displayed, whether for intake or exhaust. Additionally, the SWAFAN EX ARGB features 20 addressable LEDs (14 on the outer ring, 6 on the inner ring), allowing you to express the aesthetically pleasing lighting effects fully. You can customize its lighting effects and sync all other PC components' lighting together through the motherboard sync software. Regarding maintenance, you can easily pop out the fan blades at any time and rinse them with water.
To ensure the SWAFAN EX ARGB's quality on both radiator and chassis cooling, Thermaltake has made the standard fan blade to possess a static pressure of 2.39 mmH2O (Max) and airflow of 57.11 CFM (Max) while maintaining a 30.6 dB-A noise level when performing at full speed. The reverse fan blade comes with a static pressure of 2.02 mmH2O (Max), an airflow of 56.26 CFM (Max), and a noise level of 32.5 dB-A. The SWAFAN EX ARGB achieves an ideal balance between thermal performance and low noise level.
The SWAFAN EX ARGB features the magnetic force design, that allows you to swap fan blades and lets the 5V motherboard sync software to control ARGB lighting. Its innovation and efficiency meet your demand for functionality and aesthetics, bringing your PC build experience to the next level!
Features of the SWAFAN EX12/ EX14 ARGB PC Cooling Fan:
Quick Connect with Magnetic Force Design
Our magnetic force design ARGB version enables the connection of both the 12V PWM cable and the 5V ARGB lighting cable to a single magnetic connector; simply placing the fans side by side, the magnet connectors will instantly draw the fan frames together while keeping them in place, thus powering and lighting up the fans by daisy-chaining them. This design keeps the assembly process simple while reducing installation time, making this fan more user-friendly and bringing extra fun while building your PC.
Say Goodbye to Excessive Cables
Connect your fans with SWAFAN EX's Magnetic Force Quick Connect Design and be free from messy cables!
Swappable Fan Blade Design
SWAFAN EX ARGB includes six detachable fan blades in the package (3 standard fan blades pre-installed and three reverse fan blades). You can install the fans in different airflow directions through the two types of fan blades and preserve the fan's complete illumination at the same time. This incredible design provides more flexibility while building up the PC.
The Ultimate Cooling Performance of an ARGB Fan
The fan blades guarantee optimal cooling performance under different conditions, like installing the fans on thick radiators, air coolers, or even a chassis with multiple filters; they can still provide you with the best cooling result possible.
Cleaning Fans are now Easy and Fun!
Pop and insert, it is that easy. If you want, you can even rinse the fan blades with water, just make sure you dry them thoroughly and apply the bearing lubricant that is included in the package if needed.
Great Lighting Effects with 16.8M Colors
Two independent LED rings with 20 LEDs (Inner ring: 6, Outer ring: 14) allow you to explore different build themes with 5V motherboard sync lighting software.
For more information on Thermaltake SWAFAN EX12 ARGB, please visit:
SWAFAN EX12 ARGB:
https://www.thermaltake.com/swafan-ex12-argb-sync-pc-cooling-fan-tt-premium-edition-3-fan-pack.html
SWAFAN EX12 ARGB White:
https://www.thermaltake.com/swafan-ex12-argb-sync-pc-cooling-fan-white-tt-premium-edition-3-fan-pack.html
SWAFAN EX14 ARGB:
https://www.thermaltake.com/swafan-ex14-argb-sync-pc-cooling-fan-tt-premium-edition-3-fan-pack.html
SWAFAN EX14 ARGB White:
https://www.thermaltake.com/swafan-ex14-argb-sync-pc-cooling-fan-white-tt-premium-edition-3-fan-pack.html
Where to Buy
SWAFAN EX12 ARGB:
TT Premium Global-
https://ttpremium.com/swafan-ex12-argb-sync-pc-cooling-fan-tt-premium-edition-3-fan-pack
TT Premium China-
https://ttpremium.com.cn/product/swafan-ex12-argb-sync-pc-cooling-fan-tt-premium-edition-3-fan-pack/
TT Premium Europe-
https://ttpremium.eu/swafan-ex12-argb-sync-pc-cooling-fan-tt-premium-edition-3-fan-pack.html
TT Premium Taiwan-
https://ttpremium.com.tw/swafan-ex12-argb-sync-pc-cooling-fan-tt-premium-edition-3-fan-pack.html
TT Premium Australia-
https://ttpremium.com.au/swafan-ex12-argb-sync-pc-cooling-fan-tt-premium-edition-3-fan-pack.html
TT Premium Asia-
https://asia.ttpremium.com/swafan-ex12-argb-sync-pc-cooling-fan-tt-premium-edition-3-fan-pack.html
SWAFAN EX12 ARGB White:
TT Premium Global-
https://ttpremium.com/swafan-ex12-argb-sync-pc-cooling-fan-white-tt-premium-edition-3-fan-pack
TT Premium China-
https://ttpremium.com.cn/product/swafan-ex12-argb-sync-pc-cooling-fan-white-tt-premium-edition-3-fan-pack/
TT Premium Europe-
https://ttpremium.eu/swafan-ex12-argb-sync-pc-cooling-fan-white-tt-premium-edition-3-fan-pack.html
TT Premium Taiwan-
https://ttpremium.com.tw/swafan-ex12-argb-sync-pc-cooling-fan-white-tt-premium-edition-3-fan-pack.html
TT Premium Australia-
https://ttpremium.com.au/swafan-ex12-argb-sync-pc-cooling-fan-white-tt-premium-edition-3-fan-pack.html
TT Premium Asia-
https://asia.ttpremium.com/swafan-ex12-argb-sync-pc-cooling-fan-white-tt-premium-edition-3-fan-pack.html
SWAFAN EX14 ARGB:
TT Premium Global-
https://ttpremium.com/swafan-ex14-argb-sync-pc-cooling-fan-tt-premium-edition-3-fan-pack
TT Premium China-
https://ttpremium.com.cn/product/swafan-ex14-argb-sync-pc-cooling-fan-tt-premium-edition-3-fan-pack/
TT Premium Europe-
https://ttpremium.eu/swafan-ex14-argb-sync-pc-cooling-fan-tt-premium-edition-3-fan-pack.html
TT Premium Taiwan-
https://ttpremium.com.tw/swafan-ex14-argb-sync-pc-cooling-fan-tt-premium-edition-3-fan-pack.html
TT Premium Australia-
https://ttpremium.com.au/swafan-ex14-argb-sync-pc-cooling-fan-tt-premium-edition-3-fan-pack.html
TT Premium Asia-
https://asia.ttpremium.com/swafan-ex14-argb-sync-pc-cooling-fan-tt-premium-edition-3-fan-pack.html
SWAFAN EX14 ARGB White:
TT Premium Global-
https://ttpremium.com/swafan-ex14-argb-sync-pc-cooling-fan-white-tt-premium-edition-3-fan-pack
TT Premium China-
https://ttpremium.com.cn/product/swafan-ex14-argb-sync-pc-cooling-fan-white-tt-premium-edition-3-fan-pack/
TT Premium Europe-
https://ttpremium.eu/swafan-ex14-argb-sync-pc-cooling-fan-white-tt-premium-edition-3-fan-pack.html
TT Premium Taiwan-
https://ttpremium.com.tw/swafan-ex14-argb-sync-pc-cooling-fan-white-tt-premium-edition-3-fan-pack.html
TT Premium Australia-
https://ttpremium.com.au/swafan-ex14-argb-sync-pc-cooling-fan-white-tt-premium-edition-3-fan-pack.html
TT Premium Asia-
https://asia.ttpremium.com/swafan-ex14-argb-sync-pc-cooling-fan-white-tt-premium-edition-3-fan-pack.html